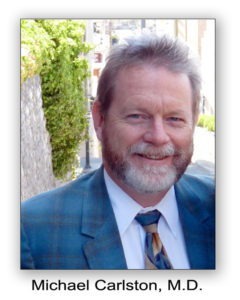 Greetings! Let's get acquainted…
Dr. Carlston is a graduate of the University of Minnesota Medical School and Bethesda Lutheran Medical Center's three-year residency in Family Practice. He was a member of the faculty in the University of Minnesota Department of Family Practice and the University of California, San Francisco School of Medicine before setting up his practice in the Santa Rosa, CA located at the heart of Northern California's Sonoma County…e.g. Wine Country.
He has studied homeopathy and other forms of complementary medicine for over 35 years and was was voted "Best General Physician In Sonoma County, California" by readers of the Sonoma County Independent newspaper (now The Bohemian). He was also named one of the outstanding physicians in the Bay Area by San Francisco Focus Magazine.
He is a nationally recognized authority in the integration of conventional and complementary medicine in clinical practice as well as medical education, research, and organizational consulting. This work has included developing educational programs for medical students, residents and faculty, serving on the editorial boards of several peer-reviewed medical journals, and consulting on CAM education and research for the National Institutes of Health.
Dr. Carlston is the editor and principal author of the medical textbook Classical Homeopathy: Fundamentals for Health Professionals — and, more recently the DIY handbook "Better Than Medicines: The Ten Essential Health Habits."
Throughout his life Dr. Carlston has been active in athletics, both personally and as a professional expert.
Dr. Carlston's books and proprietary vitamins with probiotics: